Grygorii Kaletnik congratulated the Hero of Socialist Work with the anniversary.
Back

On February, 20 Sapchuk Polina Pulupivna, Hero of Socialistic Labour, who lives in Vushkivtsi village of Nemirov region, celebrated her 85th birthday. She was awarded with this high rank of Hero of Socialistic Labour in 1948 for great achievements in agricultural production. Before being retired she had been working as an agronomist at the collective farm in Vushkivtsi village. Polina Pulupivna actively participated in the village public life, several times she was elected as a deputy of district and village Council. Memorial plaque of honor for Polina Pulupivna was opened at the local school.
People's deputy Grygorii Kaletnik entrusted to his assistants Ludmila Shapovaliuk and Mukhailo Matienko to congratulate Polina Pulupivna with her Birthday. They presented her a gift and passed words of sincere son gratitude and honor from Grygorii Kaletnik. Polina Pulupivna had a very difficult life but she didn't give up. She had never complained on her life and was always hard –working and persistent. All the citizens of Vushkivtsi village respect Polina Pulupivna and often come to ask her for advice.
Polina Pulupivna is very grateful to Grygorii Kaletnik for permanent help and anxiety.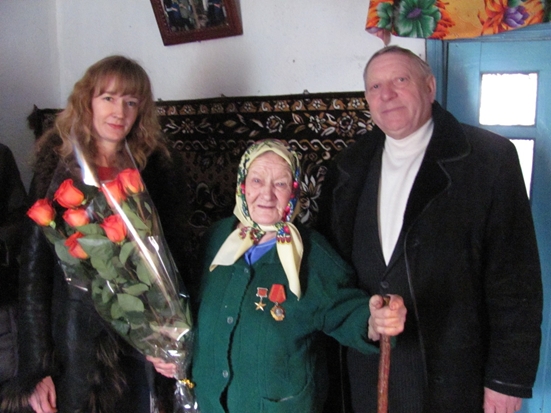 ---